WELCOME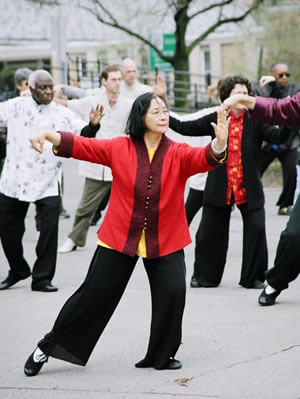 World Tai Chi Day
Why learn tai chi at the International Center for Harmony and Living Arts? You can explore the science of life from a traditional Chinese perspective that values the physical exercise of tai chi (taijiquan) and internal practice of qigong. Using this perspective can help you harmonize many aspects of daily life such as food, drink, clothing, and sleep with the rhythms of the natural universe.
The Center for Harmony is a special place. Most tai chi schools teach tai chi movements, but at this school teaching is heart to heart. Together, we explore a way of life that promotes harmony on varied levels: internal, social and emotional.
Learning harmony, rather than merely tai chi steps and qigong techniques, helps you to be healthy and happy. Students first learn to create harmony within themselves. Over time, personal harmony extends to social harmony with your family, your friends, and others around you.
If you want to be healthy you need to exercise. You cannot sit down all day. But, what exercises are good for health? At the Center for Harmony you can learn about healthy exercise. Not just external exercise, but internal exercise. Some students want the physical exercise of tai chi; others want the internal practice of qigong. Either is valuable; however, you get the most benefit if you learn both.
Master Cheng died unexpectedly in January 2014. We are committed to continuing her dream of creating a place where students explore the connection between mind and body, the principles of healthy living, and the path to responsibility for your own health.
Disciples of Lijun Cheng
Sixth Generation Lineage Holder
Yang Style Tai Chi